Mow pastures. &nbsp Plow driveways. &nbsp That is the usual way to do things. &nbsp Plowing pastures... &nbsp Now, that's not quite as common.
Last winter, we received around 10 feet of snow. &nbsp And while we had a couple thaws between storms, the snowbanks eventually became unmanagable with a pickup truck and needed to be moved by tractor. &nbsp During one of those occasions, as a goof, I asked my tractor operating friend to clear a little path for me at the gates of a couple pastures. &nbsp From there, I plowed a bit deeper into the pastures with my truck. &nbsp The end result was that it was easier for the horses to move around, easier for us to get hay out, and easier for us to get to the water troughs to top them up each day.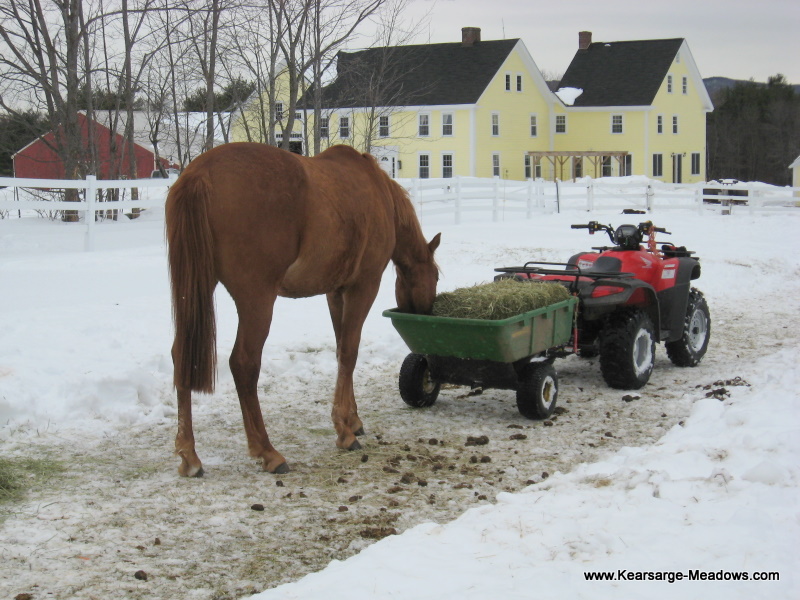 This winter, starting with the first snowstorm, I plowed paths in the pastures. &nbsp And what a timesaver it has turned out to be! &nbsp The ATV, instead of a sled, can still be used to deliver hay. &nbsp And the horses have the option of walking through deep snow OR walking on a cleared path, which they seem to appreciate.
We have another couple months of winter to go. &nbsp But so far, plowing the pastures has certainly helped make things a bit more bearable.