Bea Yewtee is out of our own Jeddien, by the grey 1990 17.1h Westfalen, Da Vinci (shown here).

Da Vinci, owned by South Gate Farm, was standing at Cornell University when Jeddien went through quarantine there as part of our move from England. &nbsp Since he was accepted by the KWPN, we used that visit to breed Jeddien. &nbsp Once she was done with quarantine, they simply moved her to the breeding barn and did the deed. &nbsp :-)

Bea is Big Ben's "sister". &nbsp Ben and Bea grew up together, sharing a big pasture for the first two years of their lives, at first with their Mom's, then with another young playmate during the weaning process.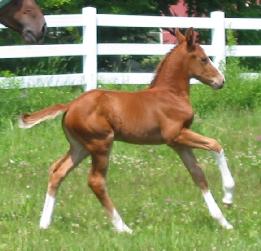 Both Ben and Bea are registered KWPN Dutch Warmbloods. &nbsp Both are chestnuts. &nbsp Both were imprint trained from birth and handled daily ever since. &nbsp Both are very friendly and really enjoy being groomed & scratched in the right places.

And that is where their similarities come to an abrupt end.

Bea's personality is best described as "sharp". &nbsp She is edgy, sensitive, quick, and clever. &nbsp She is a fast learner, but not a pushover. &nbsp A lot like Jeddien.

Watching Bea play in the pasture this weekend, I wondered how many horse people would think she was part Arabian instead of pure Dutch Warmblood. &nbsp Tail in the air, showing off incredible movement, throwing in tempi changes for the hell of it, snorting and blowing, she makes us laugh.




Bea will be 3 years old in June. &nbsp Sigh. &nbsp The 2006 babies are growing up. &nbsp :-) &nbsp It's kinda sad, but also so great to see.