A true sign that Spring is on the way is Spring Vaccination Day at Kearsarge Meadows. Each year, before show season swings into gear, we get all of our residents vaccinated against several equine ailments. This is part of our preventative medicine program.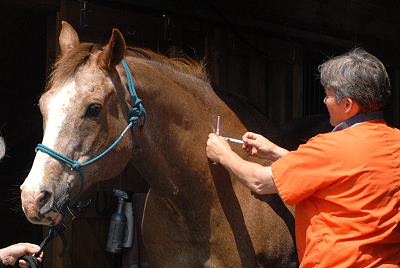 (Photo from TNT Equine showing Dr. Deme Erickson, DMV) giving a shot

Friday, March 5th, Dr. Jen Sula, DMV, from Blackwater Veterinary Services in Salisbury NH will visit. Working her way down the barn, she will check each horse one by one. Heart sounds, gut sounds, respiration, eyes, and a visual check of their overall condition.

Next, each will receive vaccinations against:
Fortunately, instead of jabbing each horse 7 times, some of the vaccinations are provided in combo shots.

Finally, blood will be drawn from those who will be out and about competing this year. It's sent to the University of New Hampshire's Veterinary Diagnostic Laboratory where they test for Equine Infectious Anemia in what is known as the "Coggin's Test". Proof of a negative result is required to compete.

Some may question the expense of this spring ritual. However, we have enjoyed an excellent record of horsey health. And therefore, no vet bills for nasty equine illnesses. We really like Preventative Medicine!